Repeater Pipette, Socorex Stepper™ 411
Overview
The Socorex Stepper 411 Repeater Pipette offers the most comfort in use through its unique trigger action mechanism. Thumb fatigue is eliminated as it is not designed like a traditional pipette or other repeater pipettes and instead is triggered with four fingers. In designing this instrument great consideration was given to ease of use and comfort, especially for smaller hands.

The 411 Stepper is ideal for use where repetitive pipetting is done such as in pharmaceutical science or RIA labs.

Three color coded Echostep™ syringes matched to color coded knobs give a laboratory up to 53 volume selections and up to 73 doses, covering a range from10 to 5,000 µL. Color coded charts show the aliquots and repetitions.

Non sterile Echostep™ syringes are supplied in bulk while sterile bioproof Echostep™ syringes are individually packed and are certified by an independent laboratory to be human DNA, DNase, RNase and pyrogen (endotoxin) free.


Features and Benefits of the Stepper 411 Repeater Pipet:

Four finger activation, trigger style, not thumb operated
Setting knobs bear clear indication of volumes and number of aliquots
Three positive displacement syringes, color coded Yellow 10 – 100 mL, Blue 50 – 100 mL, and Red 500 – 5000 mL
Up to 73 doses within large selection of 53 different volumes
Self-locking mechanism
Syringes available sterile or nonsterile
Bioproof sterile syringes are individually packed and are certificed by an independent laboratory to be human DNA, DNase, RNase and pyrogen (endotoxin) free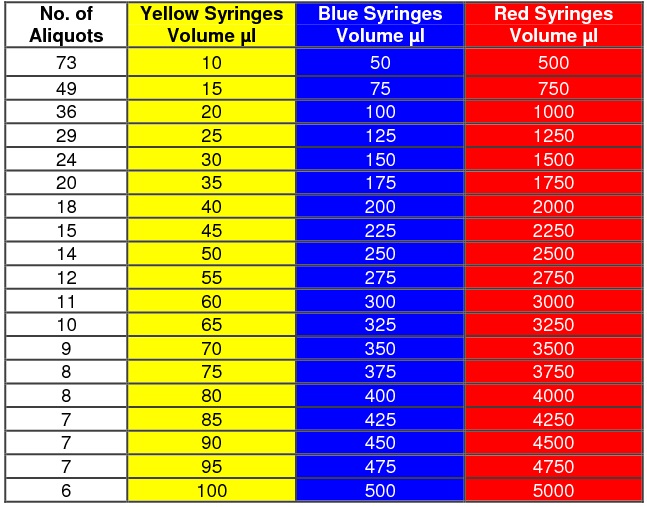 | | |
| --- | --- |
| Specifications (Click here): | Repeater Pipette, Socorex Stepper™ 411 |
| Number | Description | Price $ |
| --- | --- | --- |
| 411.5000 | Stepper 411 Repeater Pipette, including 3 color coded selector buttons, the adapter needed for the Red Ecostep syringe and Ecostep syringe samples (does not include stand) | 597.55 |
| 1.411.7 | Replacement adapter for Red Ecostep Syringe, pkg/5 | 30.76 |
| 320.411 | Stand for one Stepper, allows storage of two color coded knobs | 139.65 |
| 316.010 | Ecostep Syringe, coded yellow, 10 – 100 µL, pkg/100 | 237.00 |
| 316.010.9 | Ecostep Syringe, coded yellow, 10 – 100 µL sterilized, single wrapped, bioproof version high biological purity grade, human DNA, DNase, RNase and pyrogen (endotoxin) free, certified by independent laboratories, pkg/100 | 273.70 |
| 316.050 | Ecostep Syringe, coded blue, 50 – 500 µL, pkg/100 | 237.00 |
| 316.050.9 | Ecostep Syringe, coded blue, 50 – 500 µL sterilized, single wrapped, bioproof version high biological purity grade, human DNA, DNase, RNase and pyrogen (endotoxin) free, certified by independent laboratories, pkg/100 | 282.05 |
| 316.500 | Ecostep Syringe coded red, 500 – 5000 µL, pkg/100 | 321.60 |
| 316.500.9 | Ecostep Syringe coded red, 500 – 5000 µL sterilized, single wrapped, bioproof version high biological purity grade, human DNA, DNase, RNase and pyrogen (endotoxin) free, certified by independent laboratories, pkg/100 | 374.85 |
| 316.900 | Ecostep Syringe, Mixed Pack, 20 each of Yellow, Blue and Red, pkg/60 | 160.80 |
| 316.900.9 | Ecostep Syringe, Mixed Pack, Sterilized, single wrapped, bioproof version high biological purity grade, human DNA, DNase, RNase and pyrogen (endotoxin) free, certified by independent laboratories, 20 each of Yellow, Blue and Red, pkg/60 | 374.40 |